How to Animate Transitions in the Keynote App for iPad
How to Animate Transitions in the Keynote App for iPad
In the Keynote app for iPad, you can control the transitions between slides — that is, how the presentation moves from one slide to the next. Transitions add some flair to your Keynote presentation, making your information more than just a series of static, digital slides.
While a transition may appear to happen between two slides, it's actually attached to the "from slide," or first slide, in the sequence of two adjacent slides.
Here's how to build a transition: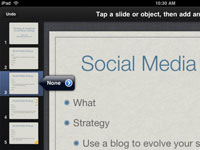 1

Tap the Transitions button to enter the transition editor.

Notice the Done button in the top-right corner of the screen — until you tap the Done button, you're working on a transition.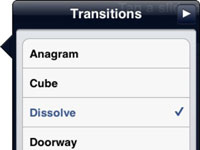 2

In the navigator on the left side of the screen, tap the slide you want to add a transition to.

A list of transition effects appears in a popover. Swipe up and down to see them all.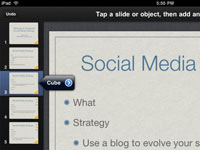 3

When you find a transition effect that interests you, tap the name to select it and see a preview.

You can tap the triangle in the top-right corner of the popover to repeat the preview.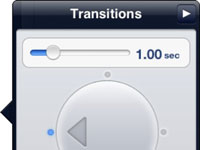 4

Tap the Options button in the bottom-right corner of the popover to set the effect options.

Drag the slider along the top to set how long the transition takes. Use the big circle in the middle of the popover to select the direction the animation moves.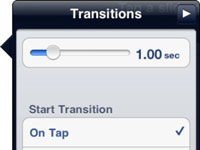 5

Swipe down on the popover to see the remaining options.

Here, you can set whether the transition starts when you tap or automatically after the preceding transition.
6

Continue to change the effects and options until you're satisfied.

You'll probably want to test out different combinations by tapping the triangle in the upper-right corner of the popover. Tap Done when you're finished.