How to Access Your iPad Photos by Years and Location
How to Access Your iPad Photos by Years and Location
You can view the photos on your iPad in logical categories such as Years and Moments. These so-called smart groupings let you, for example, view all photos taken this year or all the photos from your summer vacation. Follow these steps to view your photos by date or by a location where they were taken:
1

Tap Photos on the Home screen.

Your Photos will open.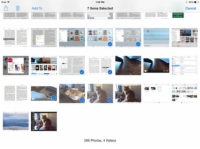 2

Tap Photos at the bottom of the screen.

The display of photos by date appears. You can peruse your entire year of photos from this view if you want to.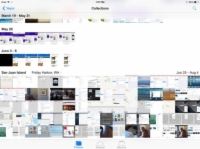 3

Tap the Collections button in the top-left corner and you see collections of photos.

Your photos will be arranged by date range or location.
4

Tap Years in the top-left corner and you see all your photos grouped by year taken.

Apple makes it easy to see your most recent photographic masterpieces.
5

Tap Collections in the top-right corner to display photos by location.

To go back to larger groupings, such as from a moment in a collection to the larger collection to the entire last year, just keep tapping the Back button at the top-left of the screen (which will be named after the next collection up in the grouping hierarchy, such as Collections or Years).