For Seniors: Visit a Contact's Website on iPad 2
For Seniors: Visit a Contact's Website on iPad 2
iPad helps you track important contact info such as addresses, phone numbers, websites, and so on. If a contact has a blog or other website for example, you can load it up in a jiffy on your iPad.
If you entered website information in the Home Page field, it automatically becomes a link in the contact's record. You'll use this link to bring up the associated webpage.
1

Tap the Contacts app icon on the Home screen.

The Contacts app is opened, and a list of contacts appears on the left.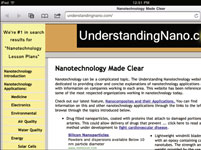 3

Tap the link in the Home Page field.

The Safari browser opens on your iPad with the web page displayed.

You cannot go directly back to Contacts after you follow a link to a website. If you want to return to Contacts to look at more information or to visit a different contact's website, you have to tap the Home button and then tap the Contacts app icon again to re-enter the application.

You can also use the multitasking feature by double-tapping the Home button and choosing Contacts from the icons that appear along the bottom of the screen.