For Seniors: View Your Audio List on iPad 2
For Seniors: View Your Audio List on iPad 2
With the iPod app on your iPad 2, you can play music, podcasts, and audiobooks. Once audio content is loaded on the iPad 2, you can view it in a variety of ways.
Although you can play videos using the iPod app, you'll find the Videos app a better choice since it offers more features specifically geared towards video playback.
2

Tap the Music, Podcasts, or Audiobooks button on the left.

The particular collection (music, podcasts, or audiobooks) is displayed.
3

Tap the Purchased button to view items purchased on iTunes.

The Purchased button only appears if you have already purchased media (videos, podcasts, music, or audiobooks) on iTunes.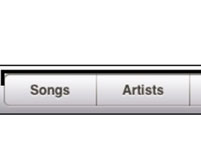 4

Tap the buttons along the bottom of the screen to sort the currently displayed list.

You can sort the list alphabetically by song title, artist, album name, music genre, or composer.

You can create your own playlists to put tracks from various sources into collections of your choosing. Tap the plus sign (+) in the bottom left corner of the iPad screen and enter a name for the playlist in the New Playlist dialog that appears. Tap Save and then tap the plus sign next to each item you want to include in the playlist.

Tap the Done button, and then tap Done again. Your playlist appears in the Library list, and you can now play it by tapping the list name and then the Play button.