For Seniors: View E-Mail Messages on iPad 2
For Seniors: View E-Mail Messages on iPad 2
You can send and receive e-mail messages on your iPad using Mail. After you receive e-mail, you can view each message and read its contents. Staying in touch via e-mail is a great way to use your iPad.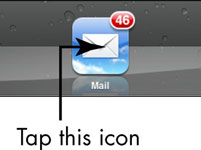 1

Tap the Mail app icon, located in the Dock on the Home screen.

A red circle on the icon indicates the number of unread e-mails in your Inbox.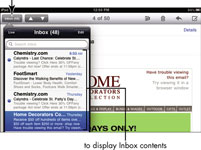 2

If you're holding the iPad in portrait orientation, tap the Inbox button to display the Inbox.

The contents of the Inbox is displayed. If you see the Mailboxes panel, then choose which Inbox (e-mail account) to display. Click All Inboxes to display everything.

Note that in landscape orientation, the Mailboxes/Inbox panel is always displayed, but in portrait orientation you display it by clicking the Inbox button.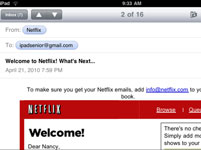 3

Tap a message to read it.

The message contents is displayed. E-mail messages you haven't read are marked with a blue circle in your Inbox. After you read a message, the blue circle disappears. You can mark a read message as unread, to help remind you to read it again later. With a message open, tap the Mark As Unread link on the right side.
4

If you need to scroll to see the entire message, just place your finger on the screen and flick upward to scroll down.

You scroll to view any part of the message that's not currently displayed on-screen. To display as much of a message as possible, tap the Hide link on the right-hand side. This hides the address details. To redisplay them, tap the Details link that appears.

To stop your iPad from receiving e-mail temporarily, use the Fetch New Data control of Mail in iPad Settings.