How To View an Album of Photos on iPad
How To View an Album of Photos on iPad
With its gorgeous screen, the iPad is a natural for viewing photos using the Photos app. Photos are grouped in albums for easy review. iPad supports common photo formats such as JPEG, TIFF, and PNG. You can shoot your photos using iPad's cameras, or import photos from your computer, digital camera, an SD card, or the Internet.
The Photos app organizes your pictures into albums based on criteria such as which folder on your computer you synced the photos from or whether you captured your photo using the iPad camera. You may also have albums for images you imported from devices such as your iPhone or digital camera.
1

To view albums, tap the Photos app icon in the Dock on the Home screen.

The Photo app opens.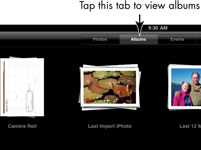 2

If the Photos tab is selected when the Photos app opens, tap the Albums tab to display albums.

An thumbnail representing each album (each collection of photos) appears.