For Seniors: Use Street Level in Google Maps on iPad
For Seniors: Use Street Level in Google Maps on iPad
The Street Level view in Google Maps on iPad 2 provides realistic images with a 360-degree adjustable street view of locations you search for. With Maps, you can lookup a home, business, or landmark's location and get directions to it.
Using Street Level view, you can view the exact location and pinpoint important nearby roadblocks that might help you figure out exactly how to drive to it, such as fences, parking lots, railroad tracks, and so on.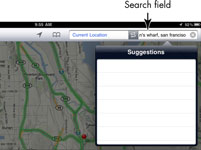 1

On the Search tab of Maps, tap in the Search field and enter a location.

For example, enter the name of your favorite local shopping mall. The location appears on a map with a pin.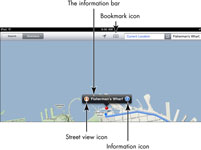 2

Tap the Street view icon on the information bar.

Street view appears.

You can view only certain locations from street level. If the Street view icon is grayed out, that means the location does not offer a Street Level view.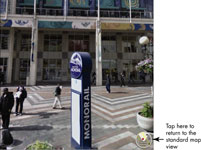 3

Tap and drag the screen to look around you in all directions.

Street Level view is a 360-degree view, so feel free to examine the location from all directions. Just remember that the view is a moment frozen in time, perhaps from a few years ago, so some things you see in this view may no longer look exactly as they appear.

You can drag the screen down to get a better look at tall skyscrapers or drag up to view the street and its manhole covers. The small, circular map in the bottom right corner highlights what you're looking at in the specific moment. In addition, street names are displayed down the center of streets.
4

Tap the small circular map in the bottom right corner.

You're returned to the standard map view.