For Seniors: Turn on Closed Captioning on iPad 2
For Seniors: Turn on Closed Captioning on iPad 2
Closed captioning displays captions at the bottom of the screen, so people who are hard of hearing can read what's being said. Closed captioning is also useful if you are watching a video where it's particularly noisy.
iTunes and iPad offer support for closed captioning and subtitles. If a movie you purchased or rented has either closed captioning or subtitles, you can turn on the feature in iPad. Look for the "CC" logo on media you download to identify the ones that include the Closed Captioning feature. Videos you record do not have this capability unless you add captions using special video editing software.
You turn on Closed Captioning before playing movies during which you might want to display captions. The closed Captioning feature stays on until you turn it off.
1

Begin by tapping the Settings icon on the Home screen.

The Settings dialog appears.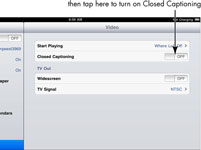 2

Tap Video in the Settings pane on the left side of the screen.

The Video options appear on the right.
3

Tap the Closed Captioning On/Off button to turn on the feature.

The Closed Captioning feature is turned on.
4

Tap Home.

Now when you play a movie with closed captioning, you can tap the Audio and Subtitles button to the left of the playback controls to turn on Closed Captioning.

If you later decide that you no longer want to use Closed Captioning on your iPad, you can turn this feature back off by repeating these steps.