For Seniors: Sync the iPad to Your Computer
For Seniors: Sync the iPad to Your Computer
You use iTunes to sync (transfer) media on your computer — music, movies, audiobooks, podcasts, and so on — with your iPad. iTunes can also sync contacts, appointments, e-mail messages, notes, photos, bookmarks, and computer apps on your computer with your iPad.
You control which files get synched (transferred) from your computer to your iPad with the iPad settings in iTunes.
After you specify which content to download in iTunes, you're ready to sync your media by connecting your iPad to the computer and beginning the synching process.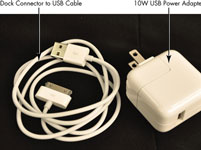 1

Plug the wide connector end of the Dock Connector to USB Cable into your iPad.

You'll find the Dock Connector slot on the bottom of the iPad.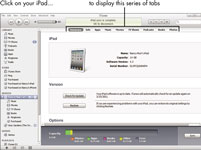 2

Plug the other end of the cord into a USB port on your computer.

iTunes opens and shows an item for your iPad in the Source List on the left. Your iPad screen shows the phrase Sync in Progress.

When the syncing is complete, the Home screen returns on the iPad and iTunes shows a message above the series of tabs indicating that the iPad sync is complete.
3

When synching is complete, disconnect the cable.

Any data you chose to transfer in your iTunes settings have been transferred to your iPad.