For Seniors: Sync Contacts on iPad 2 with iTunes
For Seniors: Sync Contacts on iPad 2 with iTunes
Sync contacts from your computer or your Google or Yahoo! account using iTunes, so you can avoid manually entering contacts on your iPad. Having contacts on your iPad 2 allows you to quickly lookup addresses, get directions using Maps, find important phone numbers, display your friend's websites, and so on.
To arrange syncing, you set your iTunes account on your computer so that it knows what you want to sync — the address book on your computer or your Google or Yahoo! account. This sync works in both directions: Contacts from the iPad are sent to your address book, and contacts from your address book are sent to the iPad.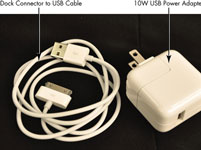 1

First connect your iPad to your computer using the Dock Connector to USB Cable.

iTunes opens on your computer.
2

Click the name of your iPad in the left navigation area of iTunes.

iTunes sync options appear below the iPad name.
4

Click to select the Sync Contacts check box, and then choose your address book from the drop-down list (Windows) or pop-up menu (Mac).

You can choose a Windows or mac address book, or a Google/Yahoo! account.
5

Click the Apply button in the bottom right corner.

After the change is applied, this button turns into the Sync button.
6

Click the Sync button.

The iPad screen changes to show that syncing is in progress. When the sync is complete, open Contacts on your iPad. All contacts have been brought over to it. It's okay to unplug the Dock Connector to USB Cable now.

You can also use a MobileMe or Microsoft Exchange account to sync contacts with the iPad, but MobileMe charges a subscription fee. Microsoft Exchange may, for example, be the program a company uses for its networked e-mail accounts, so if you're retired, this type of account may not be an option.