How To Share Photos on iPad
How To Share Photos on iPad
Photos on your iPad can be easily shared with your friends via e-mail. When you e-mail photos, they are sent as attachments. Photos you share can be saved on the recipient's computer, iPhone, or similar device, printed, or shared with others.
1

Tap the Photos app icon in the Dock on the Home screen.

The Photos app starts.
2

Tap the Photos tab and locate the photo you want to share.

Photos are displayed as small thumbnails. Scroll until you find the photo you want to e-mail.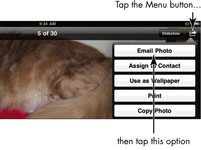 3

Tap on the photo to select it and then tap the Menu button.

The Menu button looks like a box with an arrow jumping out of it. When you tap the Menu button, a menu appears.
4

Tap Email Photo.

An e-mail message appears.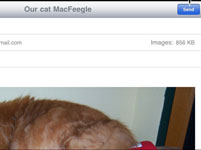 5

Address the message.

Add an e-mail address in the To field, and type a description in the Subject field. You can also tap within the body of the message and add an explanation if you want.
6

Tap the Send button.

The message and photo go on their way.

You can also copy and paste a photo into documents such as those created in the Pages word processor application. To do this, press and hold a photo in Photos until the Copy command appears. Tap Copy and then, in the destination application, press and hold the screen and tap Paste.