How To Share iPad Calendars
How To Share iPad Calendars
You can sync iPad calendar appointments from Yahoo! and Google with your iPad calendar. Using iTunes, you can also sync your computer's Outlook or iCal calendar with your iPad calendar.
Syncing a Yahoo! or Google calendar allows you to read those appointments on your iPad, but not change them. To do that, you'll need to log onto the calendar online and make the changes.
1

Tap the Settings icon on the Home screen.

The Settings options appear.
2

Tap Mail, Contacts, Calendars.

The Mail, Contacts, and Calendar options appear on the right.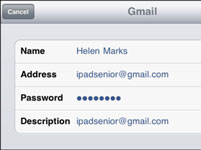 4

Tap an e-mail choice, such as Gmail or Yahoo!

A dialog appears. Enter your name, e-mail address, and e-mail account password.
5

Tap Save.

iPad verifies your address. Your iPad retrieves data from your calendar at the interval you have set to fetch data.
6

To review these settings, tap the Fetch New Data option in the Mail, Contacts, Calendars dialog.

The Fetch New Data dialog appears.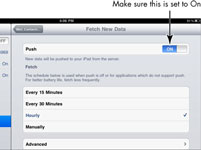 7

If needed, tap the Push option to turn it On.

Choose the frequency at which you want data pushed to your iPad.

If you use Microsoft Outlook's calendar or iCal on your main computer, you can sync it to your iPad calendar to avoid having to reenter event information.

To do this, connect your iPad to your computer with the Dock Connector to USB Cable and use settings in your iTunes account to sync with calendars. Tap the Sync button and your calendar settings will be shared between your computer and iPad (in both directions).

You can also have calendar events sent if you subscribe to a push service such as MobileMe. It can sync calendars from multiple e-mail accounts with your iPad calendar. If you choose to have data pushed to your iPad more frequently, your battery may drain a bit faster.