For Seniors: Share iPad 2 Contacts
For Seniors: Share iPad 2 Contacts
After you've entered contact information in iPad, you can share it with others via an e-mail message. Share your contacts so your friends and colleagues don't have to enter contact information manually.
The contact information is sent in VCF (vCard) format, a format that's compatible with most electronic address books. This means that your friend will be able to open the e-mail attachment and import the contact information you sent directly into their address book, whether it's Contacts, Outlook, the Mac Address Book, or whatever.
1

With Contacts open, tap a contact name.

The contact's information appears on the right.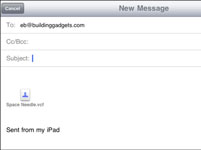 3

Use the onscreen keyboard to enter the recipient's e-mail address.

Note if the person is saved in Contacts, just type his or her name here, and the matching e-mail address will be automatically entered for you.
4

Enter information in the Subject field, type a message, and tap the Send button.

The message goes to your recipient with the contact information attached as a .vcf file. This vCard format is commonly used to transmit contact information electronically.

When somebody receives a vCard containing contact information, she needs only to click or tap on the attached file to open it. At this point, depending on her e-mail or contact management program, she can perform various actions to save the content to the address book. Other iPhone, iPod Touch, or iPad users can easily import .vcf records into their own Contacts apps.