How To Share a Google Maps Location with iPad
How To Share a Google Maps Location with iPad
Google Maps on iPad lets you quickly locate homes, businesses, or landmarks. Share the information you find via e-mail so that your friends and colleagues won't have to look it up as well.
For example, suppose you've just heard of a great new restaurant in your old neighborhood. You can look up the restaurant's address in Maps on your iPad, and then e-mail it to your old buddies along with an invitation to meet there for lunch next week. Easy as pie!
Now, after starting Maps and searching for an address, business, or destination, it appears on the map with a red pin. You use this pin to access the location's information and send it along to someone else.
1

Go to a location on the map and tap the pin.

An information bar appears above the pinned location.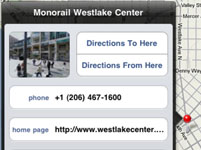 3

Tap Share Location.

An e-mail message appears. Use the onscreen keyboard to enter a recipient's e-mail address and any Cc/Bcc addresses, and add or change the subject or message as you like.