How to Set Alarms for Appointments in iPad's Calendar
How to Set Alarms for Appointments in iPad's Calendar
In iPad's Calendar, you can set appointments for the events in your life, and even add alarms to remind you to attend them. If one alarm is not enough to get you to the church on time, you can even set a second alarm for an appointment.
To use Calendar alarms, you must turn on Calendar Alerts. Tap the Settings icon on the Home screen and choose General, and then Sounds. If Calendar Alerts isn't on, tap the On/Off button to turn it on.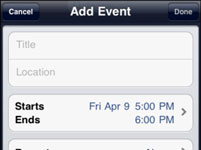 1

In the Add Event or Edit Event dialog of a new or existing event, tap the Alert field.

The Event Alert dialog appears.

If you want two alerts — say, one a day before and one an hour before — you can repeat this procedure and tap Second Alert instead.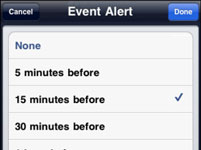 2

Tap any preset interval, from 5 Minutes to 2 Days Before.

Remember that you can scroll down to see all the options.
3

Tap Done to save the alert.

You're returned to the Add Event or Edit Event dialog box. If you're done creating or making changes to the event, tap Done to save all settings.