For Seniors: Send E-mail to an iPad 2 Contact
For Seniors: Send E-mail to an iPad 2 Contact
iPad helps you organize contact info so you can send e-mails, grab directions, or visit the websites of your contacts. After entering a friend's e-mail address into Contacts, for example, you can use that information to send a quick e-mail. Likewise, using a home or business address, you can get directions; using a contact's website address, you can pull that website up in Safari with a single tap.
To be able to send e-mail addresses using contact information, you must first enter those e-mail addresses, along with any other information you wish to store. You can save work or home e-mail addresses. After entering contact information, it's simple to use it to send an e-mail message.
1

Tap the Contacts app icon on the Home screen.

The Contacts app is opened.
2

Tap on a contact's name.

The contact's information appears on the right side of the window.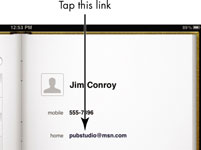 3

Tap the e-mail address link.

When you tap the person's e-mail address link, a New Message dialog box appears.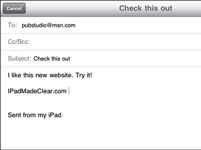 4

Use the onscreen keyboard to enter a subject and message.

The message is automatically addressed. Add a subject and type your message.
5

Tap the Send button.

The message goes on its way!