For Seniors: Search for Appointments in iPad's Calendar
For Seniors: Search for Appointments in iPad's Calendar
iPad's Calendar helps you track your appointments and special events. If you have a busy calendar, you can search for particular appointments when needed, rather than simply flipping through the Calendar day by day in order to locate one.
For example, suppose you want to change the time for an upcoming doctor's appointment you put in your Calendar. Rather than trying to recall the exact date of the appointment so you can locate the appointment and then make changes to it, you can search for the appointment instead.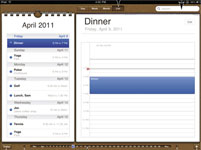 1

With Calendar open in any view, tap the Search field in the top right corner.

The onscreen keyboard appears.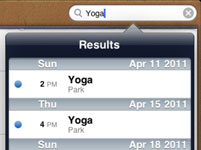 2

Type a word or words to search by and then tap the Search key on the onscreen keyboard.

As you type, a list of matching results appears in the Results dialog box.