For Seniors: Search for an iPad 2 Note
For Seniors: Search for an iPad 2 Note
The iPad 2 Notes app lets you record short notes. To locate a specific note, search its text for keywords. Your search examines a note's title and the text it contains, and produces a list of matching notes.
The Search feature lists only notes that contain your search criteria; it doesn't highlight and show you every instance of the word or words you enter within a note.
1

Tap the Notes app icon on the Home screen.

The Notes app opens.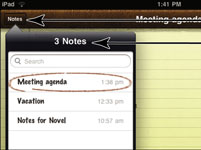 2

Either hold the iPad in landscape orientation or tap the Notes button in portrait orientation to display the notes list.

A list of our notes appears.
4

Enter the search term.

Notes that contain matching words appear on the list.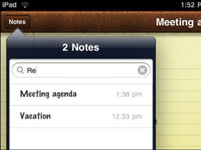 5

Tap a note to display its contents.

The note is opened, and its name is encircled in red on the notes list to indicate that it's currently open. Locate the instance of the matching word the old-fashioned way — by skimming to find it.

To look for a note based on how long ago you created it, you should know that notes are stored with the most recently created or modified notes at the top of the notes list. Older notes fall toward the bottom of the list. The date you last modified a note is listed in the notes list to help you identify when a note was created or changed.