For Seniors: Search for an iPad 2 Contact
For Seniors: Search for an iPad 2 Contact
Keep contact information on your iPad so that you can quickly locate important phone numbers and addresses when needed. You can search for a contact whenever you like, rather than browsing through your Contacts list for the information you're looking for.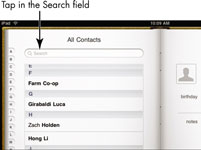 1

With Contacts open, tap in the Search field at the top of the left-hand page.

The onscreen keyboard opens.
2

Type the first letter of either the first or last name of the contact you are searching for.

All matching results appear. In the example, pressing N displays Nancy Boysen, Nellie Dillon, and Space Needle in the results, all of which have N as the first letter of their first or last names.

Currently, you can't search by a contact's phone number, website, or address, although hopefully, Apple will add this functionality soon.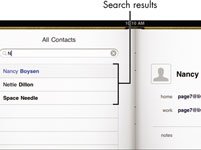 3

Tap a contact in the results list.

The contact's information appears on the page on the right.

You can also use the alphabetical listing to locate a contact. Tap and drag to scroll down the list of contacts on the All Contacts page on the left. You can also tap on any tabbed letter along the left side of the page to quickly scroll to the entries filed under that letter.