For Seniors: Save Web Clips on iPad 2
For Seniors: Save Web Clips on iPad 2
Access your favorite web pages by saving them as Web Clips on the iPad 2 Home screen. A Web Clip is a photo icon of a web page, saved to the Home screen, that you can use to jump to a website with a single tap.
1

With Safari open and the site you want to add displayed, tap the Settings Menu icon.

The Settings menu appears.
2

Tap Add to Home Screen.

The Add to Home dialog box appears.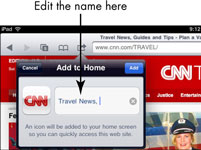 3

Edit the name of the site to be more descriptive, if you like.

The name that comes up is the name assigned to that page by the person who created it. Sometimes that name is not descriptive enough to allow you to remember why you saved the Web Clip in the first place. To edit the Web Clip name, tap the name of the site and use the onscreen keyboard to edit it.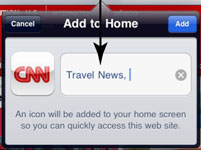 4

Tap the Add button.

The site is added to your Home screen as an icon.

If you want to delete an item from your Home screen for any reason, press and hold the icon on the Home screen until all items on the screen start to jiggle and Delete icons appear on all items except preinstalled apps. Tap the Delete icon on the item you want to delete, and it's gone.