How To Play Movies on iPad
How To Play Movies on iPad
You can purchase or rent movies from iTunes and play them on your iPad. Movies offer specific features such as chapters and closed captioning that make them different from other videos you might play such as videos you've captured yourself.
Chapters are special segments that help you to navigate a movie quickly, returning back to a specific scene after being interrupted, for example. Although you don't need to use chapters to watch a movie, they are handy when you want to watch from a specific point.
You can play movies on iPad's wonderful display or on your TV, with the help of AirPlay.
1

Tap the Videos app icon on the Home screen.

The Videos app opens.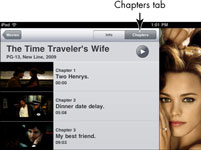 4

Tap the Play button to begin the movie, or tap the Chapters tab.

If you tap Play, the movie starts; if you tap Chapters, a list of chapters is displayed.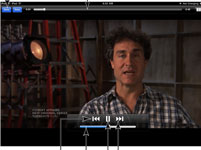 5

Tap a chapter.

The chapter begins playing. You can control any video, even a movie, using the video controls. Tap the Pause button to pause the movie; tap Play to restart the video. Drag the circular button on the Progress bar to jump forward or backward in the movie. Adjust the volume by dragging the Volume slider.

If needed, tap the Go to Previous Chapter button to return to a previous chapter in a movie; tap the Go to Next Chapter button to move to the next chapter instead.
6

To stop the video, tap the Done button on the Progress bar.

You're returned to the information screen.