For Seniors: Map a Contact's Location on iPad 2
For Seniors: Map a Contact's Location on iPad 2
Using Google Maps on iPad 2, you can locate an address entered in Contacts. Maps can also provide directions to a contact's address from wherever you're currently located, or from some other location altogether.
After entering a person's address in Contacts, a shortcut is created that you can use to view that person's location in the Maps application. Once the contact's location is displayed, you can search the map for nearby landmarks, businesses, and the like. You can also change map views, such as Satellite, Hybrid (Satellite view with street names superimposed), or Terrain (a view which shows hills, mountains, and valleys).
1

Tap the Contacts app icon on the Home screen.

The Contacts app is opened.
2

Tap the contact you want to view.

The contact's information appears on the right side of the window.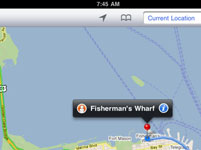 3

Tap the contact's address.

Maps opens and displays a map to the address.

This task works with more than your friends' addresses. You can save information for your favorite restaurants, theaters or other businesses in Contacts, and then use that information to jump to the associated website in the Safari browser or to the contact's address in Maps.