For Seniors: Manage Contacts with iPad 2
For Seniors: Manage Contacts with iPad 2
iPad helps you manage contact info such as names, addresses, phone numbers, and so on. Sure, you can use an address book to keep contacts, but why should you, when the iPad makes it so much fun?
For example, once a friend's address is loaded into Contacts, you can use the iPad's Maps application to grab directions to your friend's house. If your friend has a blog or other website, you can load it up in a jiffy on your iPad.
1

Tap the Contacts app icon on the Home screen.

The Contacts app opens. If you haven't entered any contacts yet, you see a blank address book.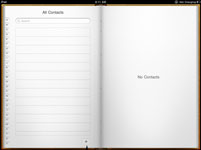 2

Tap the Add button, the button with the small plus sign (+) on it.

A blank Info page opens and the onscreen keyboard is displayed.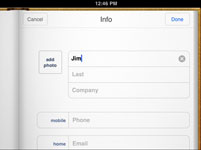 3

Enter any contact information you want.

Only a first name in the First field is required. To scroll down the contact page and see more fields, flick up on the page with your finger.
4

To add a mailing or street address, tap Add New Address.

This opens additional entry fields for the address.
5

To add an information field, tap Add Field.

The Add Field dialog appears.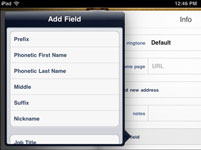 6

Choose a field to add.

You may have to flick the page up with your finger to view all the fields. Once you tap a field, it's added to the Info dialog box. Type the information you want to save into the new field.

If your contact has a name that's difficult for you to pronounce, consider adding the Phonetic First Name or Phonetic Last Name field, or both, to that person's record.