How to Search iPad 2 E-mail
How to Search iPad 2 E-mail
To locate a specific e-mail message on iPad 2, simply search for it using Mail's search capability. Because sending and receiving e-mail messages on iPad 2 is so easy, you'll soon get a lot of it. You'll soon find that being able to search for the one message you want to review is a must-know kind of thing.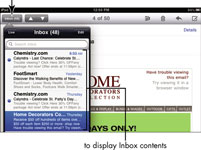 1

With Mail open, tap the Inbox button.

If you have more than one e-mail account, a list of Inboxes appears. Click the Inbox whose contents you want to view. Messages in the Inbox appear.
2

Tap in the Search Inbox field.

The onscreen keyboard appears.
3

Enter a search term or name.

For example, to find all the e-mails from Aunt Helen, type Helen. To find the e-mails about the upcoming holiday party at work, type party. You can search an e-mail message's From, To, or Subject fields.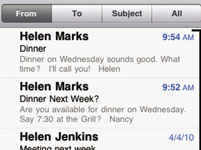 4

Tap the From, To, or Subject tab to view messages that contain the search term in one of those fields.

Tap the All tab to see messages in which any of these three fields contains the term. Matching e-mails are listed in the results.

To start a new search or go back to the full Inbox, tap the Delete key in the top-right corner of the onscreen keyboard to delete the term or just tap the Cancel button.