For Seniors: How to Multitask on an iPad 2
For Seniors: How to Multitask on an iPad 2
Multitasking on your iPad 2 lets you easily switch from one app to another without closing the first one and returning to the Home screen.
You might multitask if you want to open the browser and look up something on the Internet, and then copy that information down in the Notes app, for example.
The easiest way to learn how to multitask on an iPad is to practice with a simple example.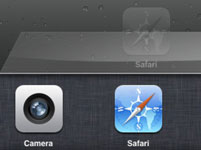 2

Double-tap the Home button.

The Multitasking Bar appears at the bottom of the screen, beneath the Dock. It displays a list of currently running or suspended apps.
3

On the multitasking bar, flick to scroll to the left or right to locate a currently running app you want to display.

If you flick all the way to the left-end of the Multitasking Bar, you'll find the controls for volume and playback and a button to lock and unlock the screen rotation or mute sound (what you see depends on which feature you have set up for the side switch in the General Settings).
4

Tap the app to open it.

The second application is displayed. To display the Multitasking Bar, double-tap the Home button again.