For Seniors: How to Install iTunes on a Computer
For Seniors: How to Install iTunes on a Computer
Download the iTunes application to your computer so that you use it to sync (transfer) downloaded content to your iPad. iTunes comes on your iPad, and it helps organize media — music, movies, audiobooks, podcasts, and such.
Installing iTunes on your computer enables you to transfer any media you download onto it onto your iPad.
1

Using your web browser, go to Apple's iTunes site.

You're going to visit Apple's iTunes site and download the iTunes software so you can use iTunes on your computer. Don't worry — the software is free.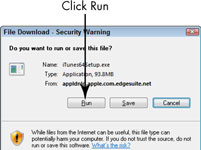 3

In the dialog that appears, click Run.

The iTunes application downloads. When the download is complete, another dialog appears, asking whether you want to run the software.
5

Click Next.

The second screen of the Installer appears. Make sure you read its contents carefully.
6

Click the I Accept the Terms of the License Agreement check box and click Next.

The installation options appear.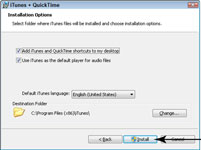 7

Review the installation options and click the Install button.

Take a moment to review all the installation options. Click to deselect the ones you don't want to use. A dialog appears, showing the installation progress.
8

When a dialog appears and tells you that the installation is complete, click Finish.

You have to restart your computer for the configuration settings that were made during the installation to take effect.