How To Get Directions Using iPad's Google Maps
How To Get Directions Using iPad's Google Maps
Using Google Maps for iPad, you can get directions to a location quickly. Directions in Google Maps appear as a line, marking the quickest route from one place to another, using the chosen transportation method: car, foot, or public transit. Directions can also appear as text describing the turns you need to make to follow the route.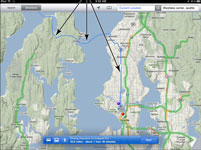 1

With at least one pin on your map in addition to your current location, tap the Directions tab.

A line appears, showing the route between your current location and the closest pin for the currently selected transportation method: by car, by foot, or by public transit. The distance and estimated time of travel appears in a blue information bar at the bottom of the map.

To adjust the route for a different transportation method, tap its button on the information bar. For example, tap the Public Transit button (it looks like a bus) to adjust the route for travel by public transportation.
2

To show directions from your current location to another pin, tap the other pin.

The route is redrawn.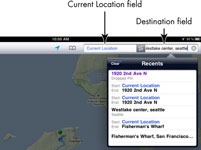 3

To get directions using two locations, enter a starting location by tapping the Directions tab and tapping in the Current Location field.

The keyboard appears; enter a starting location. Skip this step if you want to use your current location as the starting point. You can also tap a location in the Recents location list to use it as the starting point instead of entering one.
4

Tap in the Destination field, enter a destination location, and then press the Search button on the keyboard.

Again, you can select a location from the Recents list rather than entering it manually. The route between the two locations is displayed.

Tap the Reverse Directions button (between the Current Location and Destination fields) to reverse the route.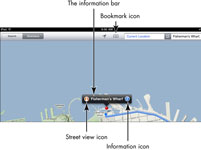 5

Another way to get directions is to tap a pin and tap the Information icon on the information bar that appears.

Information about the pinned location appears.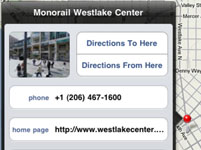 6

Tap the Directions To Here or Directions From Here button.

A route from or to the pin location from your current location is displayed.
7

To display text directions for the currently displayed route, tap Start on the information bar.

Several tools appear.