For Seniors: Find Books for iPad 2 at iBooks
For Seniors: Find Books for iPad 2 at iBooks
iBooks is an e-reader (electronic reader) for iPad that you can use to purchase and download electronic books from Apple's iBookstore. iBooks is free from the App Store, but you must download and install it on iPad 2 before you can use it to read electronic books.
1

To shop using iBooks, tap on the iBooks application icon to open it.

It's probably on your second Home screen, so you may have to swipe your finger to the left on the Home screen to locate it. After you tap the icon, the iBooks library opens. You should see a bookshelf; yours probably has only one free book already downloaded to it.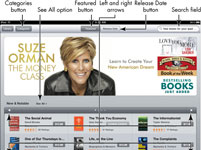 3

Browse books to locate one you might want to purchase.

Featured titles are shown by default, though you can tap Release Date to see titles chronologically by release date. There are several ways to find an app. Tap either the Previous or Next arrow to browse through the category, or tap the See All link to display all selections in that category.

Tap the buttons at the bottom of the screen to see featured books, NY Times bestsellers, free and paid books people are downloading most, browse-worthy lists of books, or titles you've already purchased.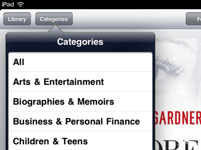 4

Or tap the Categories button to search by type of book.

A list of categories appears. Tap one to display books in that category.
5

Or search for the book you want by tapping the Search field, entering a search term, and tapping the Search button.

A list of matching results appears.
6

Tap on a book to learn more.

A description appears.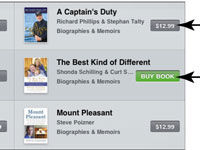 7

Tap the Free or Price button and tap the button again to download the book.

When you tap the Price button, the button changes to Buy Now. Tap the button to download the e-book; you may be asked to enter your iTunes password and tap the OK button to proceed.

The book downloads; if you download a book that isn't free, at this point your credit card is charged for the purchase price.

Download free samples before you buy by tapping the Get Sample button when you view details about a book.