For Seniors: Find Any Location with iPad's Google Maps
For Seniors: Find Any Location with iPad's Google Maps
Google Maps is included with iPad 2. With Maps, you can search for a business, specific street address, or a landmark such as the Empire State Building.
2

Type a street address, a business name such as Walmart, or a destination such as Empire State Building or Detroit airport.

Maps may make suggestions as you type if it finds any logical matches. For some addresses, you may need to type the city, state, and/or zip to find the location you want.

Try asking for a type of business or location by zip code. For example, if you crave something with pepperoni, enter 99208 pizza.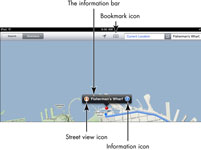 3

Tap the Search key on the keyboard.

The location appears with a red pin inserted in it and a label with the location, an Information icon, and in some cases, the Street view icon. Note that if several locations match your search term, several pins may be displayed.
4

Tap the screen and drag in any direction to move to a nearby location.

The map view is adjusted to display locations in the direction you swiped.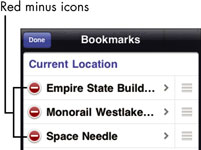 5

Tap the Bookmark icon.

A list of bookmarks you've added appear; to visit one of those saved locations, tap it in the Bookmarks list.
6

Tap the Recent tab, located at the bottom of the Bookmarks list.

Recently visited sites are displayed. Tap a site to revisit it again.