For Seniors: Find a Missing iPad
For Seniors: Find a Missing iPad
The FindMyiPad feature can find a missing iPad whether you simply mislay it or someone steals it. FindMyiPad not only tracks down your iPad but also lets you wipe out the data contained in it if you have no way to get the iPad back.
Before you lose your iPad however, you must set up MobileMe on you iPad and turn on its FindMyiPad feature. After that, if you misplace your iPad, you can use FindMyiPad to pinpoint its location on a map. You can make the iPad display a message or play a sound so you can locate it. You can also lock the iPad or wipe its data to protect your information.
1

Tap the Settings icon on the Home screen.

The Settings dialog appears.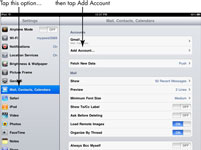 2

Tap Mail, Contacts, Calendars and then tap Add Account

Various account types you can add are listed.
3

Tap MobileMe.

The MobileMe dialog appears.
4

Enter your Apple ID and password.

At this point, MobileMe might have to verify your ID, which it does by sending an e-mail to your ID e-mail account. Go open the message and click the verification link.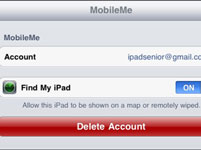 5

Back in the MobileMe dialog, tap and drag to turn on the FindMyiPad feature.

It's the FindMyiPad feature that will help you locate your iPad later on should you ever lose it.
6

Tap Save.

From now on, if your iPad is lost or stolen, go to the MobileMe site from your computer and enter your MobileMe ID and password. The Find My iPhone screen appears with your iPad's location noted on a map.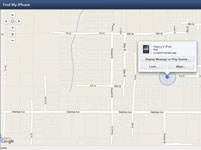 7

Click the blue arrow for the iPad and choose an option.

The blue arrow is located at the right end of the information bar, which appears just above the iPad's location on the map. If you click Lock, type the passcode you want to use to unlock the iPad (assuming you haven't already set a passcode for the iPad, otherwise, do nothing). The iPad is locked.

If click Wipe, click Erase All Data to confirm. Your information is removed from the iPad. If you click Display Message or Play Sound, either type a message to display on the iPad or click Play a sound for 2 minutes, which causes the iPad to make noise. Click Send.