For Seniors: Edit Video with iMovie on iPad 2
For Seniors: Edit Video with iMovie on iPad 2
You can capture video with your iPad 2, and easily edit movies you take using iMovie. With iMovie, you can splice two videos together and add music, special video effects, and narration.
The iMovie app has been built into Mac computers for several years, and now a version is available for the iPad (it costs $4.99). Download and install iMovie before continuing.
1

Tap the iMovie app icon on the Home screen.

The iMovie app opens.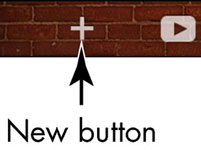 2

Tap the New button to begin a new movie project.

Any videos you've taken are listed in the top left corner of the screen.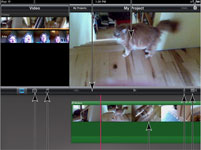 3

Double-tap a video.

The video opens and is ready to edit.

To add one video to the end of another, double-tap another clip in the list of media.The clip appears to the right of the first one in the storyboard. To quickly return from iMovie to your camera, perhaps to capture more footage, tap the Video Camera button.
4

To scroll through your video, tap the storyboard.

Wherever the red line sits is where your next action, such as playing the video or adding a transition, begins.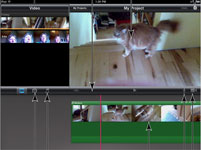 5

Tap the Music button to add music.

Choose from sound effects, music in your iPod library, or theme music (a quick and easy way to add a musical track to your video).

Tap Settings to change the settings for playing theme music, looping the music to play continuously, and using a special effect to fade your movie in or out at the beginning and end.
6

To record an audio narration, scroll to the point in the movie where you want it to be heard and tap the Microphone button.

Recording tools appear.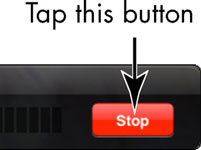 7

Tap the Record button, wait for the countdown to complete, and then record.

When you're done recording, tap Stop. The Recording Finished dialog appears.