How To Download Free Podcasts from iTunes U
How To Download Free Podcasts from iTunes U
iTunes U is a compilation of free online courses from universities and other providers, available through iTunes. Courses at iTunes U are presented in podcasts, and are easily playable on your iPad.
With iTunes U, you can satisfy your curiosity on a number of subjects, and continue to grow and learn. Best of all, since iTunes U is free, your continuing education won't cost you a cent!
1

Start iTunes and tap the iTunes U button in the row of buttons at the bottom of the screen.

Featured podcasts at iTunes U appear.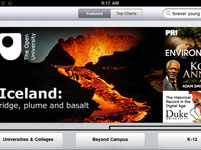 2

Tap one of the three buttons at the bottom of the screen.

Your choices include: Universities & Colleges, Beyond Campus, or K-12. After you make a choice, a list of related podcasts appear, such as K-12 podcasts.
3

Tap an item to select the source for a course.

That provider's page appears.

To return to the main iTunes U screen, just tap the button labeled iTunes U (located in the top left corner of the screen).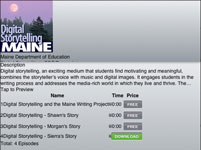 4

Tap either the Next or Previous button to scroll through offerings, and tap a selection.

A list of segments of the course appear.