How To Display Current Location with iPad's Google Maps
How To Display Current Location with iPad's Google Maps
The Google Maps app is preinstalled on iPad 2. With Google Maps, you can display your current location and discover what businesses are nearby. Using your current location, the Maps app can provide directions from where you are to where you want to go. You can also bookmark favorite locations, change views, and lookup phone numbers and addresses of locations shown on the map.
In the iPad version of Google Maps, you can display the map and written directions simultaneously.
1

From the Home screen, tap the Maps icon.

The Maps app opens.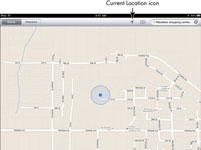 2

Tap the Current Location icon.

Your current location is displayed with a blue pin in it and a blue circle around it. The circle indicates how accurate the location is — it can be anywhere within the area of the circle, and it's likely to be less accurate on a Wi-Fi–only iPad.

If you don't have a 3G version of iPad, your current location is a rough estimate based on a triangulation method. Only 3G-enabled iPads with the global positioning system (GPS) can pinpoint where you are. Still, if you are looking for directions and you manually type a starting location and an ending location in Maps, you can get pretty accurate results even with a Wi-Fi–only iPad.
3

Double-tap the screen.

You're zoomed in on your location. Double-tap again to zoom back out.

You can also use the push and pinch gestures to zoom in and out. When you zoom in and out, the map takes a few moments to redraw, so be patient.