For Seniors: Delete Videos on iPad 2
For Seniors: Delete Videos on iPad 2
Your iPad easily plays videos, podcasts, movies, and TV shows, so you might collect quite a few. Remove videos you no longer want by deleting them from your iPad. Removing videos you no longer want to play on your iPad frees up room for videos you do want to keep.
1

Tap the Videos app on the Home screen.

The Videos app opens.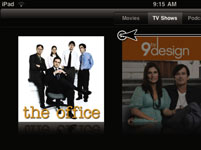 3

Tap and hold on the video you want to get rid of.

A Delete button appears next to the video's thumbnail.
4

Tap the Delete button.

The video is deleted.

You can delete videos that you shot yourself using iPad's cameras, downloaded from the Internet, or rented from iTunes or elsewhere. However, you cannot delete videos that are synched to the iPad from your computer using this method. Instead, you need to delete these videos through iTunes.

If you buy a video using iTunes, sync to download it to your iPad, and then delete it from iPad, it's still saved in your iTunes library. You can sync your computer and iPad again to download the video once more. However, rented movies, once deleted, are gone with the wind.

iPad has much smaller storage capacity than your typical computer, so downloading lots of TV shows or movies can fill its storage area quickly. If you don't want to view an item again, delete it to free up space.