How to Delete Apps from Your iPad
How to Delete Apps from Your iPad
You can delete (remove) iPad 2 apps if you decide that you no longer need them. Deleting unwanted applications from your iPad saves precise space for the apps you actually do use. You can only delete apps that you downloaded from iTunes; you can't delete apps that are preinstalled on the iPad such as YouTube, Calendar, and Contacts.
1

Display the Home screen that contains the app you want to delete.

The apps on that Home screen are displayed.
2

Press and hold the app you want to delete.

All the apps begin to jiggle and a delete button (X) appears next to each icon..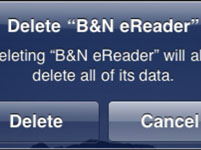 4

Tap Delete to proceed with the deletion.

A dialog asking you to rate an app before deleting it appears.
5

Tap the Rate button to rate it or tap No Thanks to opt out of the survey.

If you're rating the app, select the number of stars you wish to assign it.

You can delete a folder by following these same steps. When you delete a folder, the apps that were contained within the folder are placed back on the Home screen — the apps themselves are not deleted.