For Seniors: Change the iPad 2 Wallpaper
For Seniors: Change the iPad 2 Wallpaper
The wallpaper of water drops — the default iPad background image — may be pretty, but it may not be the one that works best for you. Choosing different wallpaper may help you to see all the icons on your Home screen.
1

Start by tapping the Settings icon on the Home screen.

The Settings categories appear on the left.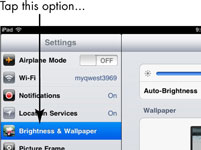 2

Tap Brightness & Wallpaper in the list on the left.

The Brightness & Wallpaper options appear on the right.
3

Tap the arrow to the right of the iPad images displayed in the Wallpaper section.

Sample wallpapers appear.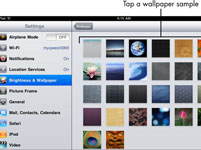 4

Tap a sample wallpaper to select it.

A preview of how your screen will look, using the selected wallpaper, appears.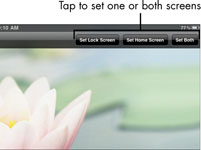 5

Tap either Set Lock Screen (the screen that appears when you lock the iPad by tapping the power button), Set Home Screen, or Set Both.

If you tap Set Home Screen, then the selected wallpaper is used only for the Home screen. If you tap Set Lock Screen, then the wallpaper appears whenever you lock the screen. If you tap Set Both, the wallpaper is used for both the Home screen and when the screen is locked.
6

Tap the Home button to return to your Home screen.

The new wallpaper is set as the background, or the lock screen, or both, depending on the option you chose.