For Seniors: Buy Media on iTunes
For Seniors: Buy Media on iTunes
On your iPad 2, you can buy music, movies, audiobooks, and more at the iTunes Store. Media you purchase through iTunes is typically downloaded directly to your iPad or to your computer and then synced to your iPad.
Note the Redeem button on the right side of many iTunes screens. Tap this button to redeem any iTunes gift certificates you might get from your generous friends, or from yourself.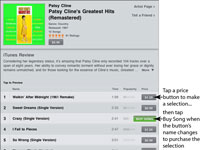 1

When you find an item you want to buy, tap the price button or the word Free (if the selection is available for free).

The button label changes to Buy X, where X is the type of content you're buying.

If you want to buy music, you can choose to buy an entire album and a single song from the album.
2

Tap the Buy X button.

The iTunes Password dialog appears.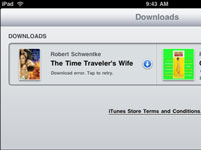 3

Enter your password and tap OK.

You may be prompted to confirm the purchase by clicking Buy again. After that, the item begins downloading and is automatically charged to your credit card. When the download is complete, you can view the content on your iPad using the iPod or Video app, depending on the type of content.