For Seniors: Browse Notes on iPad 2
For Seniors: Browse Notes on iPad 2
The Notes app on iPad 2 allows you to take short notes such as to-do lists and books you want to read. Browse notes after you create them to find the one you want to read, add to, or e-mail to someone.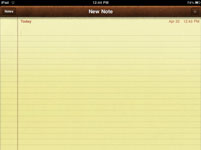 1

Tap the Notes app icon on the Home screen.

The Notes app opens. In landscape orientation, a list of notes appears by default on the left side of the screen.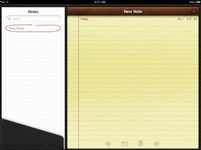 2

If you're using portrait orientation, display the notes list by tapping the Notes button in the top left corner of the screen.

The notes list appears. Notes are arranged from the most recently created/edited (which appear at the top of the list) to the oldest.

Notes are named using their first line of text, and thus, it is possible for more than one note to have the same name. To make it easier to identify a note, edit this first line to create a unique title.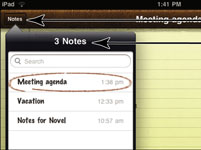 3

Tap any note.

The note is displayed, and its name is encircled in red on the notes list so you can see which note is open. You can tap a different note in the list to display it. There is also another way to move to a different note.
4

To move to the next or previous note in the list, tap the Next or Previous button.

The next or previous note is displayed.