How To Bookmark Favorite Web Pages in iPad Safari
How To Bookmark Favorite Web Pages in iPad Safari
Using Safari, you can browse the Internet on your iPad. If you find a new favorite web page, bookmark it in Safari so that you can easily revisit the page when needed.
1

With a site you want to bookmark displayed, tap the Add icon.

A menu of options appears.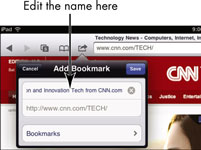 3

Edit the name of the bookmark, if you want.

The name that comes up is the name assigned to that page by the person who created it. Sometimes that name is not descriptive enough to allow you to remember why you saved the bookmark in the first place. To edit the bookmark name, tap the name of the site and use the onscreen keyboard to edit it.
4

Tap the Save button.

The bookmark is added to the Bookmarks menu.
5

To go to a particular bookmark, tap the Bookmarks icon.

The Bookmarks menu appears.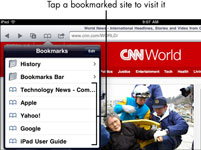 6

Tap the bookmarked site you want to visit.

The web page you selected from the Bookmarks menu appears.

If you want to sync your bookmarks on your iPad browser to your computer or useyour MobileMe account, connect your iPad to your computer and make sure that the Sync Safari Bookmarks setting on the Info tab of iTunes is activated.

When you tap the Bookmarks icon, you can use the Bookmarks Bar that appears to create folders to organize your bookmarks. When you next add a bookmark, you can then choose from the dialog that appears, any folder to which you want to add the new bookmark.