How To Bookmark and Highlight E-Books on iPad
How To Bookmark and Highlight E-Books on iPad
If you find a page in an iPad e-book you want to return to, bookmark it. You can also highlight important passages in an e-book. Bookmarks and highlights in your e-books are like favorite sites you save in your web browser. They enable you to revisit a favorite passage or refresh your memory about a character or plot point.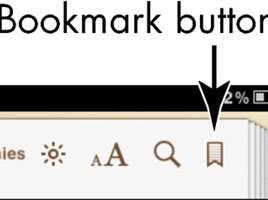 1

To bookmark the current page, tap the Bookmark button in the top right corner.

The page is added to the Bookmarks list.
3

Tap the Highlight button on the toolbar.

A colored highlight is placed on the word.
5

Change the highlight color, add a note, or remove the highlight.

If you tap the Colors button, a menu of colors appears; tap to change the highlight color. To add a note about the highlighted item, tap the Note button. To remove the highlight, tap the Remove Highlight button.
6

Tap outside the highlighted passage.

The toolbar closes.
7

To display a book's bookmarks and highlights, tap the Table of Contents button.

The Table of Contents button is located on the left, at the top of a book page, next to the Library button. When you tap it, the Table of Contents appears.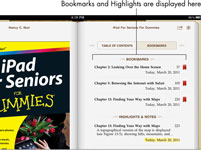 8

Tap the Bookmarks tab.

Bookmarks are displayed at the top of the list; highlights and notes appear at the end of the list.
9

Tap on a bookmark or highlight in this list.

The bookmarked page, highlighted word or phrase, or note appears.

iPad automatically bookmarks where you left off reading in a book so that you don't have to do it manually.

You can also highlight illustrations in a book. Display the page and press on the image until the Highlight button appears above it. Tap the button and the illustration is highlighted in yellow. As with highlighted text, you can tap on a bookmarked illustration to change the highlight color or remove its highlight.