For Seniors: Add Regular E-Mail to iPad 2
For Seniors: Add Regular E-Mail to iPad 2
You can send and receive e-mail on iPad 2 through regular e-mail providers such as Windows Live/Hotmail, Earthlink, Microsoft Exchange, MobileMe/iCloud, and your cable-Internet provider. You can also send and receive webmail on the iPad 2.
Webmail providers typically use a web page to help you create and send e-mail. On iPad, webmail providers include Gmail, Yahoo!, or AOL accounts, and you set them up differently than the way you set up regular e-mail on iPad 2. To set up a regular e-mail account, you'll need some hosting information from your provider such as incoming and outgoing mail server addresses.
1

Tap the Settings icon on the Home screen.

The Settings options appear on the right.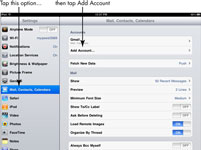 2

In Settings, tap Mail, Contacts, Calendars, and then tap the Add Account button at the top right.

A list of e-mail providers appears.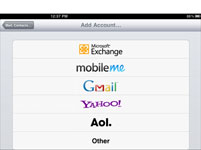 3

Tap Other or Microsoft Exchange.

Although you can use the Other option to setup Windows Live/Hotmail, it's best to choose Microsoft Exchange. If you tap Microsoft Exchange, a dialog box in which you can enter the Exchange account information appears, and you can skip the next step.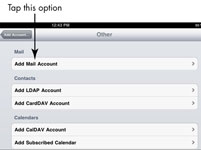 4

If you tap Other, tap Add Mail Account; otherwise, skip this step.

A dialog box in which you can enter your account information appears.
5

Enter your account information.

For a non-Exchange account, enter your name, e-mail address, password, and account description, and tap Next. For MobileMe/iCloud, choose the services to sync — Mail, Contacts, Calendars, and Bookmarks and tap Save. iPad verifies your account and adds it to the Mail, Contacts, and Calendars page. If iPad has a problem, you'll be prompted to enter incoming and outgoing server information (such as pop.ix.netcom.net and smtpauth.earthlink.net).

For Exchange, enter the server address (such as m.hotmail.com), e-mail address, and username (they are your e-mail address), and password. Click Next, enter the server address again. Click Next and choose the services you want to sync — Mail, Contacts, and Calendars.
6

To make sure that the Account is active, tap the account name, tap On and tap Done.

You can now access the account through Mail.

You can turn any e-mail account on or off by opening it in Settings and tapping its On/Off button.