For Seniors: Add Photo Effects to iPad Images
For Seniors: Add Photo Effects to iPad Images
Photo Booth is a photo manipulation app on iPad 2 that works with the iPad 2 cameras. You use Photo Booth to capture photos using various fun effects. With some effects, you can create a kaleidoscope effect; with others, you can stretch, squeeze, or twirl the subject of the photo. Some effects are artistic, while others are just plain fun.
You select an effect first, then take a photo using the iPad's cameras.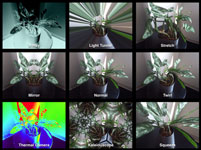 1

Tap the Photo Booth icon on the Home screen.

The Photo Booth app is opened, and the different possible effects that can be used in the current view of the camera appear.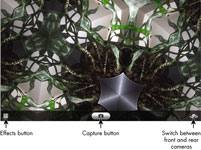 2

Tap an effect, and then tap the Capture button.

The camera's image is captured using that effect, and it appears along with a filmstrip of all images you've captured using Photo Booth.

To try other effects, tap the Effects button in the bottom left corner of the screen. If you want to delete an image that didn't turn out as planned, tap the Menu button, tap a photo, and then tap Delete.
3

Tap the Home button to return to the Home screen.

Your photos are now available in the Camera Roll folder of the Photos app.