For Seniors: Add Bookmarks to iPad's Google Maps
For Seniors: Add Bookmarks to iPad's Google Maps
In Google Maps on iPad 2, a bookmark provides a way to save a destination permanently. Bookmarks allow you to find your favorite locations quickly, again and again.
To add a bookmark to a location, you must first add pin the location.
1

After pinning a location, tap the Information icon.

The Information dialog displays.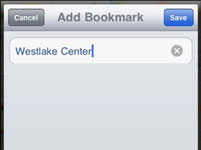 3

If you like, modify the name of the bookmark.

To modify the bookmark name, clear the text from the text box and type the name you want to use.
4

Tap Save.

The bookmark is saved to the Bookmarks list.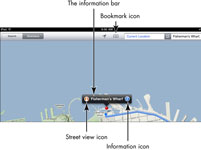 5

To view your bookmarks, tap the Bookmark icon (it looks like a little open book) at the top of the Maps screen.

A list of bookmarks is displayed; tap on a bookmark to go to that location.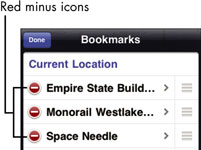 6

To delete a bookmark, tap the Bookmark icon tap the Edit button.

A red minus icon appears to the left of each bookmark.
7

Tap a red minus icon and tap Delete.

The bookmark is removed.