How to Add Appointments to iPad's Calendar
How to Add Appointments to iPad's Calendar
The Calendar app on iPad allows you to track all your appointments and special events. Add appointments to the calendar so you can more easily keep track of your busy schedule.
Appointments and events can be set up to repeat when needed. For example, if you have a weekly luncheon appointment, you can enter it once and tell Calendar to automatically repeat it for you every week. Appointments and events be viewed by day, week, or month by the way — whichever view is the most convenient.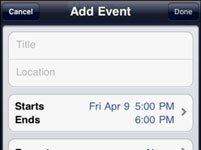 2

Enter a title for the event and, if you want, a location.

For example, you might enter Lunch with Sally as the title, and La Hacienda as the location.
3

Tap the Starts/Ends field.

The Start & End dialog is displayed.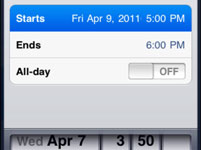 4

Tap the Starts field.

Use the time control at the bottom of the dialog box to adjust the start time. Scroll up or down with your finger in each column: date, hour, minute, and AM/PM, to set the start time. Repeat to set the Ends time. When each item is set correctly, tap Done.

If the event will last all day, you can simply tap the All-Day On/Off button and forget about setting start and end times.
5

If you want to add notes, use your finger to scroll down in the Add Event dialog and tap in the Notes field.

Type your note.
7

Tap on a preset time interval: Every Day, Week, 2 Weeks, Month, or Year then tap Done.

You're returned to the Add Event dialog.
8

Tap Done.

The appointment or event is saved to your calendar.

You can edit an event at any time by simply tapping the appointment or event in any view of your calendar. The Edit Event dialog appears; make your changes and tap Done to save them.