For Seniors: Accept a FaceTime Call on iPad 2
For Seniors: Accept a FaceTime Call on iPad 2
FaceTime lets you make a video call to other FaceTime users. If someone calls you on your iPad 2 using FaceTime, you can accept or decline the call. If you accept, the video call begins right away. During the call, you'll be able to see the caller, and he/she will be able to see you.
Because the iPad 2 has two cameras, you can switch between them anytime during the call. For example, you might want to show the person on the other end of the video call your surroundings.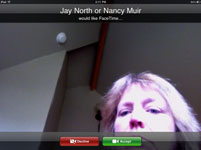 1

When a FaceTime call comes in, tap the Accept button to take the call or tap the Decline button to reject it.

When a call comes in, a window pops up, displaying the person's face (or whatever's in front of his/her camera). Since you'll be able to identify who's calling, you'll be able to easily decide whether to accept or decline the video call.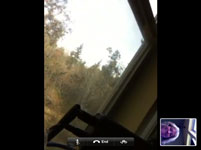 2

If you want, switch cameras or mute the sound during the call.

During the call, you might want to show the person you're talking to what's going on around you. Tap the Switch Camera button, and the view is switched from the front-facing camera that's displaying your image to the back-facing camera that captures whatever you're looking at. When you want, tap the Switch Camera button again to switch back to the front camera displaying your image.

To mute sound during a call, tap the Mute button. Tap the button again to unmute your iPad.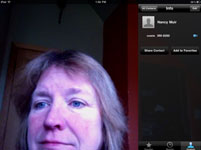 3

To add the caller to your Favorites list, tap the Favorites button and then tap the plus sign (+) to add the person's name.

Adding a person to your Favorites allows you to quickly initiate a FaceTime video call later on.