Add Guitar Effects with the AmpliTube App for iPad
Add Guitar Effects with the AmpliTube App for iPad
AmpliTube for iPad is an amplifier and effects modeling package that turns your iPad into a mobile guitar rig. Plug your guitar into your iPad, launch AmpliTube, pick an amp, lay down some effects pedals, and your guitar sounds like you're playing up on a stage somewhere with a full rig behind you. You can switch pedals and amps with just a couple of taps until you get the sound you want.
To use AmpliTube for iPad, you need an audio interface like AmpliTube iRig or GuitarConnect from Griffin Technology to be able to plug your guitar into your iPad.
AmpliTube for Mac and Windows has been around for several years now, and the iPad app is derived from the same technology that makes the desktop software powerful enough to use with desktop recording.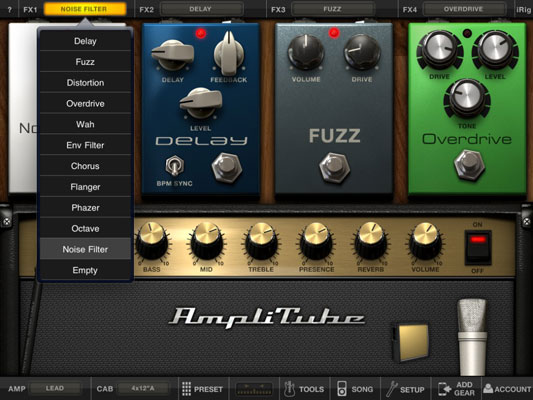 Nothing gets a brand label, despite the obvious products from Marshall, Fender, Ibanez, and other manufacturers these models are based on. You'll be able to quickly figure out what's what, though, or at least what you like.
The app includes a built-in tuner and metronome, as well as backing tracks you can play on top of. You can also play on top of full songs, but you'll have to add those songs to the app through a file-transfer browser. There are twelve presets you use for amp, cabinet, mic, and pedal combinations that you really like. It comes with nine of them already set up, and three empty ones, but you can change all of them as much as you want.
There's a free version of AmpliTube called AmpliTube FREE for iPad. It has just two amps, three pedals, and two mics for you to use, but it's a great way to make sure you're going to like the app before you buy the full version. You can add individual cabinets, amps, and pedals to the free version through the in-app store, but if you're going to buy more than a couple, you'll save money by buying the full version.