Accessing the iTunes Games Center App on iPad 2
Accessing the iTunes Games Center App on iPad 2
The Game Center app comes preinstalled with iPad (iOS 4.2 and later). If you're into gaming, you'll enjoy the features it offers that allow you to invite friends to play games, buy games, and keep track of your games, friends, and achievements.
Using the Game Center app, you can search for and buy games, add friends with whom you can play those games, and keep records of your scores for posterity. In order to do this, however, you must first open a Game Center account by following these steps: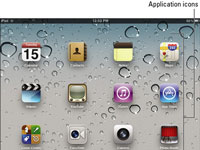 1

From the Home screen, tap the Game Center icon.

If you've never used Game Center, you're asked whether to allow push notifications: If you want to receive these notices alerting you that your friends want to play a game with you, tap OK.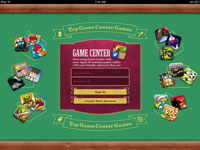 2

On the Game Center opening screen, tap Create New Account.

The Game Center interface offers four choices along the bottom. Me contains your profile and summary of number of friends, games, and achievements. Tap Friends to invite friends to play. Tape Games to shop for games at the iTunes shop. Requests shows you any requests from your friends for a game.
3

If the correct country isn't listed in the New Account dialog, tap the Location field and select another location.

If the correct location is already showing, tap Next to confirm it.
4

Tap the Month, Day, and Year fields and enter your date of birth, and then tap Next.

Think of the Game Center as a kind of social networking site for gamers, where you can compare your scores and find players to go a few rounds with. The app can automatically match you with other players who have a similar ability.
5

In the Game Center Terms & Conditions dialog, read the conditions and then tap Agree. Then tap Agree again.

You can't use the Game Center App unless you agree to their terms.
6

Enter your name, e-mail address, and password information and tap Next.

Add a question and its answer, in case you forget your password, and be sure to scroll to the bottom of this dialog and choose to turn off the e-mail notification subscription if you don't want to have Game Center send you messages.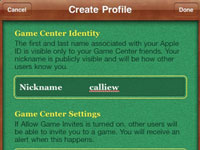 7

In the Create Profile dialog that appears, enter your "handle" in the Nickname field.

When playing games with others, your handle will identify you.

If you don't want other players to be able to invite you to play games when Game Center is open, tap the Allow Game Invites On/Off slider to turn off the feature.
8

If you don't want other players to be able to send you e-mail, turn off the Find Me By Email On/Off slider.

If you leave this feature on, be sure to scroll down and verify the e-mail address you want others to use.
9

Tap Done.

You return to the Game Center Home screen, already signed in to your account, with information displayed about friends, games, and achievements (all at zero initially.)