10 iPad Hints, Tips, and Shortcuts
10 iPad Hints, Tips, and Shortcuts
After spending some quality time with your iPad, you might be in need of a few helpful hints, tips, and shortcuts. Following are ten of the most useful.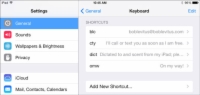 1

Save time and keystrokes with keyboard shortcuts.

Keyboard shortcuts are a way to have your iPad automatically type a phrase when you type the shortcut. You can even use shortcuts to automatically correct the spelling of words you commonly mistype.

You can create keyboard shortcuts such as the ones shown in OS X since at least version 10.6 (Snow Leopard). Just launch the System Preferences app, tap the Language and Text (Snow Leopard) or Keyboard (Lion or later) icon, and tap the Text tab (Snow Leopard) or Keyboard Shortcuts tab (Lion or later).
2

Auto-correction is your friend.

Put some faith in the iPad's Auto-Correction software. And that applies to contractions. In other words, save time by letting the iPad's intelligent keyboard insert the apostrophes on your behalf for these and other common words.

However, the iPad can't distinguish between it's and its. (It's is the contraction of it is, and its is the possessive adjective and possessive pronoun.) So if you need, say, e-mails to important business clients to be grammatically correct, remember that Auto-Correction doesn't get it (or it's or its) right all the time.

Some people don't care for auto-correct and turn it off. If you hate it, too, here's how to get rid of it: Tap Settings→General→Keyboard and tap the Auto-Correction switch to Off.

3

View the iPad's capacity.

When your iPad is selected in iTunes, you see a colorful chart at the bottom of the screen that tells you how your media and other data use your iPad's capacity.

By default, the chart shows the amount of free space on your iPad, along with colored bands that represent the audio, video, photo, apps, documents, books, and such on your iPad.

What you may not know is that when you hover your cursor over the chart, an overlay appears with the number of items of that type that are stored on your iPad, and how much space those items consume in megabytes (MB) or gigabytes (GB).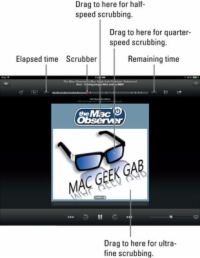 4

Speed up the audio scrub bar.

Here's the situation: You're listening to a podcast or audiobook and trying to find the beginning of a specific segment by moving the Scrubber bar — the little red line representing the playhead — left and right. The only problem is that the Scrubber bar isn't very precise, and your fat finger keeps moving it too far one way or the other.

Never fear — your iPad has a wonderful (albeit somewhat hidden) fix. Just press your finger on the Scrubber, but instead of sliding your finger to the left or right, slide it downward toward the bottom of the screen. As you slide downward, the scrubbing speed changes like magic, and the Scrubber bar moves in finer and finer increments.

Furthermore, the speed is displayed below the Scrubber bar and updates in real time. So when you slide your finger downward an inch or so, the speed changes to roughly half-speed scrubbing. Drag another inch or so, and it changes to quarter-speed scrubbing. Keep dragging, and it changes to very fine scrubbing.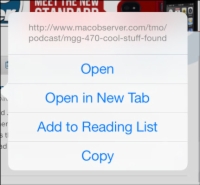 5

Perform some tricks with links and e-mail addresses.

The iPad does something special when it encounters an e-mail address or a URL in e-mail messages. When the iPad sees what it assumes to be a URL or an e-mail address, it makes that text appear as a blue link on your screen.

If you tap a URL or an e-mail address, the iPad launches Safari, takes you to the appropriate web page for a URL, and starts a new e-mail message for an e-mail address. So don't bother with copy and paste if you don't have to — tap those blue links, and the right thing will happen every time.

If you press and hold a link rather than tapping it, a little floating text bubble appears and shows you the underlying URL. In addition, it offers the options shown in the figure.

If you press and hold most images, a Save Image button appears in addition to the four other buttons. Tap Save Image, and the picture is saved to the Camera Roll on the Albums tab of the Photos app. Tap Copy, and it's copied to the Clipboard so that you can paste it into an e-mail message or document created in another app (such as Apple's Pages or Keynote).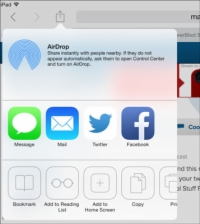 6

Share the love . . . and the links.

The iPad makes sharing simple. From the site in question, tap the Action icon, which looks like a little rectangle with an arrow sprouting from it. Just tap the Message, Mail, Twitter, or Facebook button to share the link via e-mail, iMessage, or post it to your Facebook wall or Twitter stream.
7

Choose a home page for Safari.

Open the web page you want to use as your home page and tap the Action button (it looks like a little rectangle with an arrow sprouting from it at the top of the screen).

Tap the Add to Home Screen button.

Tap this new Web Clip icon instead of the Safari icon, and Safari opens to your home page instead of the last page you visited.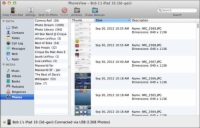 8

Store files.

A piece of OS X software, PhoneView ($29.95), lets you copy files from your Mac to your iPad and copy files from the iPad to a Mac. (No Windows version is available.) Better still, you can try the program for a week before deciding whether you want to buy it.

The big deal here is that while automatic backups protect most of the files on your iPad, there's no way to manipulate them. They're backed up and restored, but heaven help you if you want to extract one or more individual iMessages, specific songs, videos, notes, or other types of data from your iPad. The bottom line is that there's no easier way than PhoneView.
9

Make phone calls on the iPad.

You can make and even receive phone calls on your iPad. Two of the key components to calling are built into the iPad: a speaker and microphone. Now all you have to do is head to the App Store to fetch a third component, an app that takes advantage of VoIP, or Voice over Internet Protocol. In plain-speak, that means turning the iPad into a giant iPhone.
10

Taking a snapshot of the screen.

Press the Sleep/Wake button at the same time you press the Home button, but just for an instant. The iPad grabs a snapshot of whatever is on the screen.

The picture lands in the Camera Roll of the Photos app. From there, you can synchronize it with your Mac or PC, along with all your other pictures, or e-mail it to yourself or anyone else.