Use Windows Movie Maker for Digital Videos
Use Windows Movie Maker for Digital Videos
Windows Movie Maker is available for free as part of the Windows Essentials suite, which you can download. Movie Maker runs like a well-oiled machine under Vista, Windows 7, and Windows 8.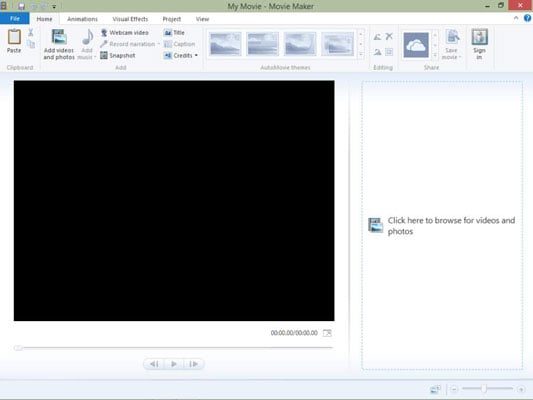 After you install Movie Maker, you can run it from the Windows 8 Start screen by simply typing movie and clicking the Movie Maker button that appears in the Apps Search result pane.
Take a moment to examine the Movie Maker main window, and you'll see the three major controls you use:
Ribbon: Like the Office 2013 applications, Movie Maker includes this powerful collection of command buttons, which changes to reflect the tab you select.

Player window: It sounds self-explanatory, and (for a change) it is. The Player window allows you to play back and view your movie within Movie Maker while you're working on it.

Storyboard: If you're familiar with the concept of storyboarding in cinematography — where sketches of scenes are arranged to create a paper mock-up of the film — you probably already guessed that you use this section of the window to add and reorder items that you import from your hard drive. And you're right. These media clips are the building blocks of your finished movie.