Use the F8 Menu to Troubleshoot Your PC
Use the F8 Menu to Troubleshoot Your PC
As your PC boots up, you may encounter one of a multitude of start-up menus and options. Some are for troubleshooting purposes, and others may present options for starting the computer, selecting an operating system, or placing Windows into Safe mode.
Perhaps the most well known of the PC's boot-up menus is the Advanced Boot Options menu, commonly called the F8 menu. That's because the menu appears when you press the F8 key just after Windows starts. In fact, you have to be quick: The F8 key must be pressed before the Windows start-up screen (the logo) appears.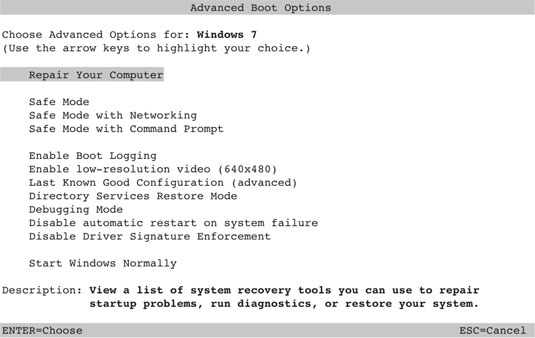 Repair Your Computer: This option starts up repair and recovery options on certain PCs, essentially booting the computer into the RECOVERY partition of the main hard drive.
Safe Mode: In Safe mode, the computer starts and only Windows is loaded — no add-on drivers or software. Safe mode is a good tool for tracking down problem programs.
Safe Mode with Networking: Safe mode is started and networking abilities are loaded. This option is required when you need to access the network to assist with troubleshooting.
Safe Mode with Command Prompt: Windows runs in Safe mode but displays a text-only interface, which is useful for troubleshooting graphics problems or when you're not completely befuddled by the command prompt and just enjoy using the computer that way.
Enable Boot Logging: Selecting this option directs Windows to write detailed information about the start-up process to a file named ntbtlog.txt.
Enable Low-Resolution Video (640 x 480): Choosing this option starts the PC in a very low-resolution video mode, but not in Safe mode. This setting is useful for tracking down video problems. In Windows XP, this selection reads Enable VGA Mode.
Last Known Good Configuration (Advanced): This item starts Windows by using the most recently saved system configuration information. This option is good for when you experience start-up problems after a Windows update or software upgrade. In Windows Vista and Windows XP, the text (Advanced) doesn't appear on the menu.
Directory Services Restore Mode: Selecting this option is necessary only when using a Windows domain controller. If such a concept befuddles you, rest assured that you'll most likely never need to choose this option.
Debugging Mode: This item is used to start something called the Windows kernel debugger.
Disable automatic restart on system failure: A gem, this item prevents the vexing and endless issue known as "There's a problem, so I will restart."
Disable Driver Signature Enforcement: This option allows the computer to run drives that don't have proper identification (signatures). Doing so is risky when you're uncertain of the driver software or the developer's reputation, but it's often necessary in order to run a computer when troubleshooting.
Start Windows Normally: Choosing this option continues the Windows start-up process on its merry way, as though nothing ever happened.
When nothing is going wrong, choose Start Windows Normally to continue with the normal Windows start-up procedure. Or, you can press Ctrl+Alt+Delete to restart the computer.
You have to press the F8 key almost immediately after the PC's hardware splash screen appears. You can just press and hold F8 to ensure that the menu shows up, though the computer beeps at you when the keyboard's buffer is full (but that's not a bad thing).

An additional item, Reboot, is available only in Windows XP. Choosing Reboot restarts the computer.

The options Repair Your Computer and Disable Driver Signature Enforcement aren't available in Windows XP.